Many women do not know how to choose lingerie that properly fits them. Most of the time, they choose style over substance. They ignore the importance of tailoring and support. It is important to understand that the wrong choice of fabric means less support for the chest, which can lead to bone displacement.
Inappropriate to wear the wrong bra
Wearing a bra that is too small or of the wrong size can cause back problems or l shoulders, which can lead to deformation in the spine, a protruding belly and even a reduced breast and body size. This is caused by the chest pressing into the breasts and the breasts shrinking inward.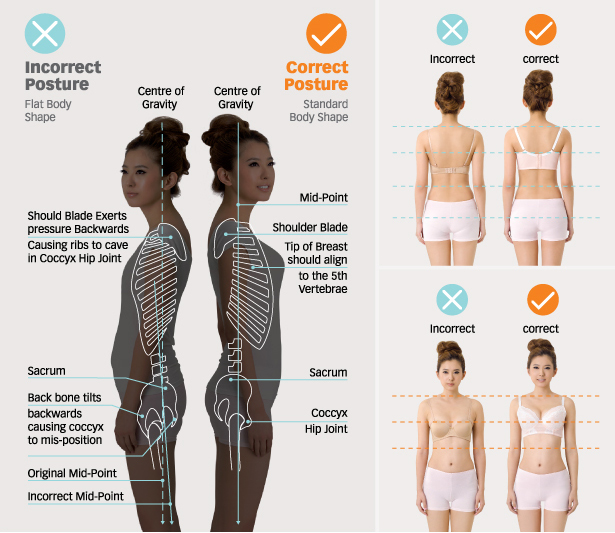 THE SHAPE OF YOUR BREAST
Shape of the female breast due to congenital or acquired different relationships:

THE DISTANCE BETWEEN THE NORMAL BREAST AND CHEST WITH THE TIP
The distance between the breasts of different women reflects a certain degree of physiological indicators. As a standard indication, the human breast tip should be aligned with the 5th Vertebrae and within the mid-clavicle line outside 10mm. Generally speaking, the lower the tip height and the greater the distance between the breast, the nipple will be more inclined outwards. So keeping the distance between the nipples of smaller breast can help to minimize breasts from sagging.

PUBERTY ISSUE
During puberty, a woman's breast size will increase. This increases the load in the upper body, which in turn affects the skeletal and muscle tone. According to case studies, many women with normal or bigger breasts are unable to maintain their natural chest posture because they are overly conscious of the weight of their breasts. That's why for many women, their slouched posture begins at puberty. Every time they exercise or walk, they are shy about their breast shape so they unintentionally stretch their breasts to make them look smaller. This not only adversely affect the natural body shape, but also leads to an uncorrectable slouched body posture, vertebrae dislocation and other problems.
SPECIAL BRA NEEDS DURING PREGNANCY
For pregnant women, the breasts will become larger up to two cup sizes as the pregnancy progresses (see chart)

PREGNANCY WOMAN SHOULD PAY ATTENTION TO THE FOLLOWING WHEN SELECTING AND WEARING A BRA:
Select a flexible cup bust
Select a bra that does not yield too much pressure on the stomach
Choose a steel-wired bra that provides enough support, but does not press
against the breast and chest
Be aware of the changes of breast size during pregnancy, from 2-3 months until 7 month